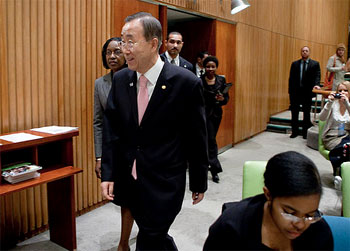 As Paul Joseph Watson reports today, the pretexts under which the ongoing effort to establish a world government is moving forward is undergoing a transformation. The focus has now drifted away from the thoroughly debunked global warming myth to poverty-reduction. As usually is the case, once the pretext is sold to the unsuspecting, the eugenicists move in to "reduce fertility."

Where the mantra used to be "to combat global warming, we need a one world government", now it sounds something along the lines of "when we wish to eradicate poverty, we must have a global government and reduce human numbers, by the way." Any pretext will do. The same argument can of course be applied to every possible calamity "that flesh is heir to"- as Shakespeare wrote.
Following this line of reasoning will inevitably bring you to other pretexts under which global population control can be sold. Want to reduce victims of drunk driving? Reduce human numbers. Looking to cure cancer? Reduce the birthrate so less people will die as a result of it. The scientific community has joined the effort, attempting to sell population reduction to stop poverty and disease worldwide.
Under the guidance of Ban Ki-moon's top advisor, Dr. Jeffrey Sachs, several studies have been published which call for mass population reduction in the name of poverty-reduction. In 2009 Sachs and his protégé's Pejman Rohani and Matthew H. Bonds wrote the paper Poverty trap formed by the ecology of infectious diseases. They write that the "poverty trap may (…) be broken by improving health conditions of the population."
The question that arises, of course, is how to improve "health conditions". In another study from 2009 Bonds and Rohani say:
""(…) the birth of a child in the poorest parts of the world represents not only a new infection opportunity for a disease, but also an increase in the probability of infection for the rest of the susceptible host population. Thus, epidemiological theory predicts that a reduction in the birth rate can significantly lower the prevalence of childhood diseases."
Earlier that same year, Bonds wrote a dissertation entitled Sociality, Sterility, and Poverty; Host-Pathogen Coevolution, with Implications for Human Ecology. The study concludes that the best way to eradicate poverty and disease is to, well… eradicate humans.
"We find that, after accounting for an income effect, reducing fertility may result in significantly lower disease prevalence over the long (economic) term than would a standard S-I-R epidemiological model predict, and might even be an effective strategy for eradicating some infectious diseases. Such a solution would make Malthus proud", Bonds writes.
"(…) the new model, which accounts for an economic effect, predicts that a reduction in fertility may be significantly more effective than a vaccine. It also illustrates that a sustained vaccination policy would be more likely to eradicate a disease if done in conjunction with decreased reproduction."
"This model", Bond continues, "is likely to understate the true benefits of reduced fertility because the effect of reducing the birth rate is to reduce the flow of susceptibles for all diseases, which is the equivalent of a vaccine for all infectious diseases at the same time."
If you eradicate the human, you eradicate the disease, problem solved:
Fresh food that lasts from eFoods Direct (Ad)
"Infectious diseases, however, continue to be most significant in developing countries, which experience relatively rapid population growth. The effect of this influx of children on the persistence and dynamics of childhood diseases, as well as on the critical vaccination coverage, is reasonably well-established (McLean and Anderson, 1988a; Broutin et al., 2005). But it is now warranted to turn this framework on its head: can fertility reduction be an integral element of a disease eradication campaign?"
Disease and poverty, intertwined as they are, can therefore be eliminated by mas-scale fertility reduction. This is the religion of the scientific dictatorship in a nutshell.
Jurriaan Maessen
Infowars.com